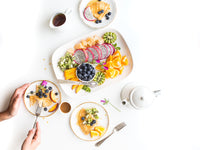 Ready to take meal prepping off your plate?
Take the guess work out of what's for dinner. We do all the menu planning, grocery shopping, cooking and clean up. Your meals are prepared from scratch in your own kitchen. You get to come home after a long day and enjoy a fresh homemade meal.
Take comfort in knowing you're eating wholesome and nutritious meals. With our nutrition background, the meals we create are nutrient-dense and we emphasize the use of fresh, organic, and local foods. Whether you're vegetarian, vegan, paleo, gluten-free, dairy-free, or allergy-friendly we've got your back.
Testimonials
Rachel is truly a blessing in my life. With a business and two small children I struggle with taking care of myself. Rachel prepares the most amazing meals. She's truly a professional with a great talent and passion for what she does. You can taste the love in her food.

Mary, Orangeville
Rachel is an extremely knowledgeable and talented holistic chef, her meals are fantastic and extremely healthy. I am NEVER hungry, have never felt better in my entire life and am thriving in all areas of my life as a result. Rachel, thank you so very much for all of your support, I couldn't be on this journey without you!

Yvette, Caledon
Rachel is a holistic nutritionist so we know the meals she prepares for us are healthy and well-balanced. Rachel is very accommodating of our various food allergies and sensitivities. We love that hearts & beets is full-service - Rachel plans the weekly meals, does the grocery shopping, cooks, and then leaves the kitchen spotless when she's done.

Dana, Mono
Between working full time and helping my husband run his business, I was having a hard time fitting in making healthy, yummy dinners. Her full service gave me flexibility to do things for "me" after work instead of feeling like I was chained to the kitchen. You'll find yourself eating and cooking with ingredients you never would have thought of before!

Kaitlyn, Mono
How it works
1. Get in touch by emailing rachel@heartsandbeets.com.

2. We meet to learn your health goals.

3. A nutritionist plans your personalized menu.

4. We do your grocery shopping (optional!)

5. We cook your meals from scratch in your home.

6. We do all the clean up and leave your kitchen spotless.

7. You eat! Enjoy your delicious healthy meals, made just for you.